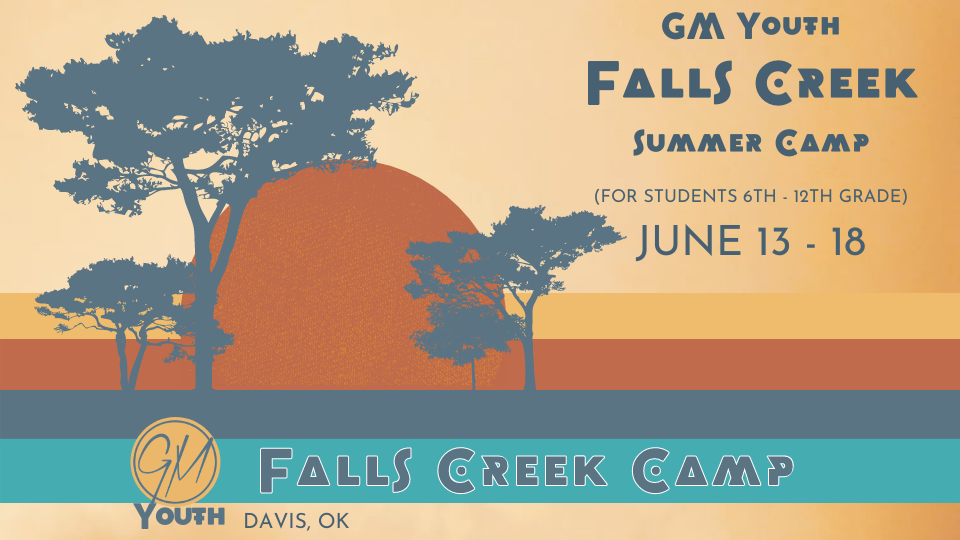 Monday, June 13, 2022 - Saturday, June 18, 2022
We are so excited to be heading back to Falls Creek this summer for Youth Camp! This is a time for Middle and High School students to leave behind the daily grind and get away from distractions and focus on building their relationships with the Lord and one another.
The theme this year is CHOOSE! We will learn about how in Christ we are Saved, Set Apart, Solid and Surrendered. Click HERE for more information about Fall Creek, including speakers, the history of the camp and a normal day's schedule!
Don't miss out on this incredible opportunity to hear from and be changed by the Lord Almighty.
Meetings to make
Sunday, April 10th - Initial Parent Meeting: We'll discuss the registration process, go over tentative schedules and departure times, dress code and code of conduct, as well as address any other questions. This will be up in the Youth Room at noon, or immiately following 3rd service.
Wednesday, June 1st -

Mandatory

Parent Meeting: Here's we'll go over final, specific details, ensure all necessary paperwork and payments are complete, as well as discuss packing needs for the week.
Registration Process
This is a 2 step process, during which you will need the following information:
Emergency Contact
Primary Care Information
Insurance Information
Medical Information (Allergies, Medication, etc.)
Date of last Tetanus Immunization
Step 1 - Register Directly with Falls Creek
Falls creek required all campers (students and adults) to register directly with the camp. This is an online registration process and requires no payment, but you will need the information above to complete the process.
Click the link below to get started on Step 1!

Falls Creek Registration
Step 2 - GM Youth Registration Here
Next, you register with us! You will need the information above here as well, and this is where you will make your payment. You can choose to either pay a deposit of $75, or the full cost of $299.