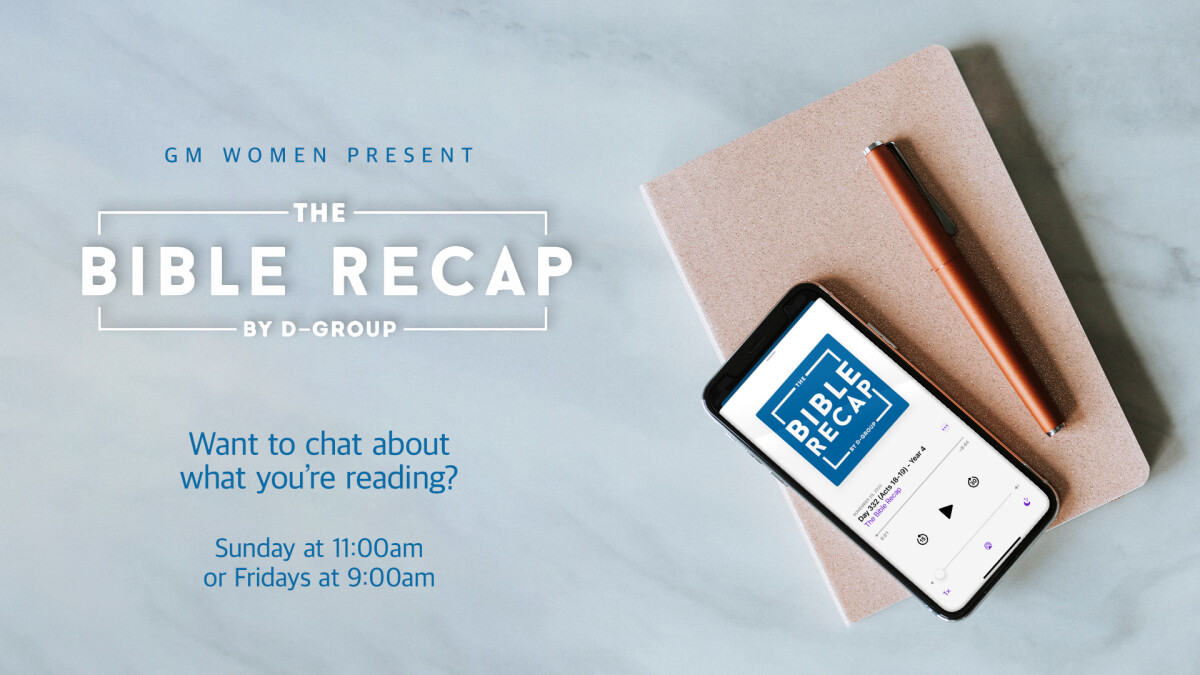 Every Sunday, from 01/01/2023 to 12/31/2023, 11:00 AM - 12:00 PM
Join the GM Women as we read through the entire Bible in 2023!
With this plan you will read (or listen) through the whole Bible in chronological order in just 20 minutes a day. To put it in perspective: that's less than 1% of your day! Less than an episode of your favorite show. Less time than it takes to eat your lunch or get ready in the morning. Imagine what could happen in your heart, your family, your church, and city by committing to give just 1% of your day to the LORD every day this year!
The essential information: Starting on January 1st, we will be following The Bible Recap reading plan. After you read the day's verses, you will either listen to the daily podcast episodes, or read from the book version (basically a polished up transcript of the podcasts). You should be able to read or listen to both the scripture portions and The Bible Recap for the day in about 20 minutes.
Before you get started
Make sure to listen to the "prep episodes" in December so you're ready to go on January 1. You can access those episodes and learn everything you need to know about the plan at thebiblerecap.com.
If you want to read along with us, sign up here so we can check in on your progress, send you encouragement, and send out any helpful links we may have that pertain to the reading.
Optional Weekly Gathering
We will also be doing optional weekly discussion meetups to provide in-person accountability and encouragement! These discussions will be happening on Sunday mornings at 11:00 and Friday mornings at 9:00 in room E104. You don't need to come on both Sundays and Fridays, just pick the one that works for your schedule because we'll cover the same thing in each one. And it's ok if you have to miss a week here and there. As long as you're following the reading plan you'll be ready for discussion even if you can't make it every week.
Childcare: If you want to join us on Friday mornings and you'll need childcare, please register here! Without registrations, there won't be childcare.